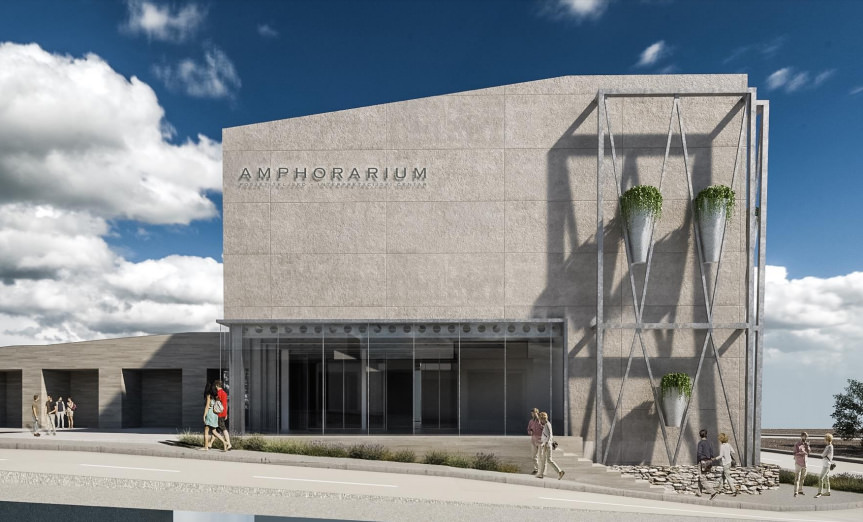 Get to know the "Amphorarium", a sequel to the story of Colentum
It is well known that Colentum, a Roman settlement, was also a port city, as is evidenced by the remains of port facilities. The port of ancient Colentum, once of great importance to maritime traffic due to its position, extended to the northwest side of the Gradina peninsula, near today's church. It was located in a very secluded cove enclosed by Gradina peninsula and on the islets Mali, Veli Vinik and Tegina. Its time of maximum activity is considered to be the 1st century b.C.
Last year, the Murter-Kornati Municipality inaugurated the first archaeological beach in Croatia. More and more swimmers come to this place, some of them attracted by the peace and silence of this beach, some others by the curiosity of exploring the remains of a Roman city under the sea. If you dive just a few meters, you will find the remains of ballast stones, amphorae… And the remains of these amphorae were the spark that started the story of Amphorarium, the first amphora home, which will provide an attractive presentation of the purpose and origin of amphorae, the underwater archaeological sites, and Murter's gastronomy and tourist attractions, through the support of interactive multimedia contents.
The project was presented by Architect Damir Lasinović and his associates from Study Arx d.o.o., together with the Mayor of Murter-Kornati Toni Turčinov, the head of the Department of Finance, Development and Economy Luka Ježin, Jure Knežević and Iva Petrov, Jelena Devičić and Marko Barišić from the Šibenik company Kocka d.o.o., and the director of the Šibenik Museum of Art Željko Krnčević. Prof. Irena Radić Rossi from the University of Zadar is also a partner in the project.
As stated by the Municipality of Murter-Kornati, the Amphorarium will make history revive in an innovative and sustainable way, presenting the existing cultural heritage and the specificity of this locality by linking the cultural and gastronomic dimensions to a unique tourist attraction. We believe that this project will contribute greatly to the economic and social development of the island of Murter and we are happy that association Argonauta is part of this project.
Take a look at the pictures of the design project at this link.