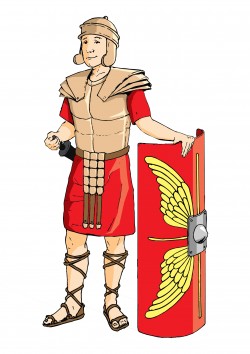 During the first Colentum archeological camp a question on a mascot representing the life in ancient Colentum was raised. After a brief brainstorming, Quintus Petronius Valens Colentinus was accepted as our mascot. This character was based on archeological artifacts from Murter, as well as on historical facts corresponding the date of their origin (the 1st/2nd ct. A.D.). Quintus represents the curiosity to reveal the secrets hidden by the Gradina Hill and the Colentum archeological site.
The story about Quintus was based on our notions on the life in the ancient town of Colentum, and artifacts found there.
This illustrated story was turned into a souvenir and served as the basis for the play titled "Small Shipbuilder" performed by the Small School of Drama from Murter led by Sergej Mioč. To find out more about Quintus and his friends, read this interesting illustrated story or join us in our Small School of Drama.
"Boy named Quintus from the Town of Colentum dreams of becoming a Roman legionnaire. The attack of pirates who rob the town and take away Quintus and other citizens interrupts his playful everyday life. The future of Colentum depends on a treasure map taken by the pirates."
Gallery